Breakfast à la Parkhotel Ropeter Göttingen: delicious and fresh and in the garden in summer
To get the day off to a really good start!
From 6.30 a.m. to 10.00 a.m. and on weekends until 11.00 a.m., our particularly varied breakfast buffet and always a warm smile from the breakfast team await you at the Parkhotel Ropeter Göttingen. And not only for our hotel guests, for whom breakfast is included in the room rate.
If you want to have a delicious breakfast in Göttingen, you are welcome to take a seat in our beautiful winter garden or on our terrace in the garden. Perhaps our hotel garden at the Parkhotel Ropeter Göttingen will become your new favourite place for Sunday breakfast? Thanks to our good location in Göttingen and our hotel's own free parking spaces, we are also easily and stress-free accessible for those who want to come by car. We are also well positioned for larger breakfast groups and thanks to our large selection, everyone in the family or circle of friends is sure to find the right thing for breakfast. It's a great way to start the day!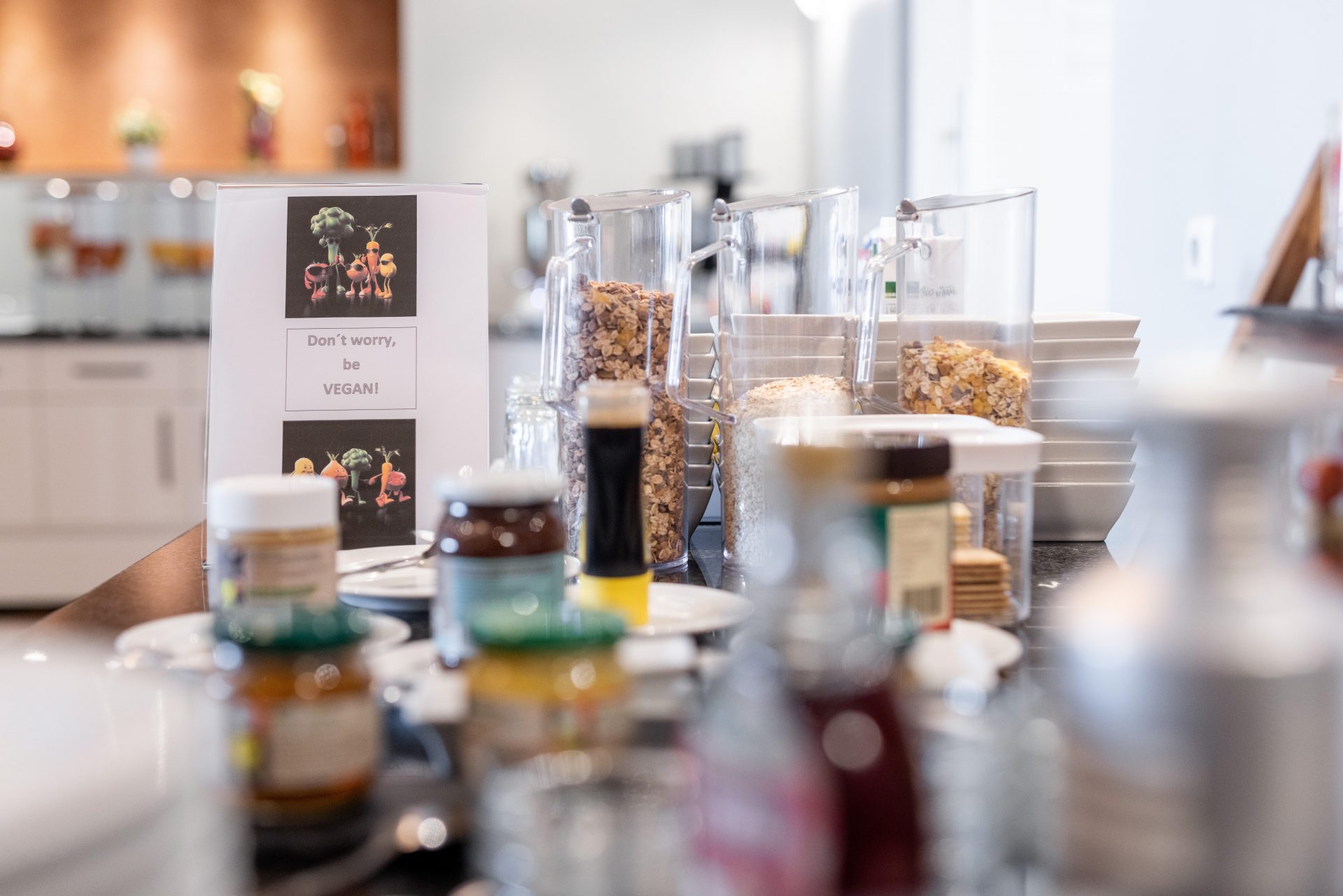 Our breakfast offer at a glance:
To ensure that sweet and savoury breakfasters and, of course, vegetarians and vegans find the perfect offer: why not enjoy your way through the breakfast buffet with relish!
Vegetarian and vegan dishes: Tomato mozarella sticks, vegan spreads, vegan chocolate cream, dried fruit, vegetable snacks, vegetarian dips and more.
Hot dishes: Scrambled eggs, sausages, bacon
Bread selection: Various rolls, bread selection, croissants
Cold cuts & cheese: Various cold cuts such as salami, cooked ham, turkey breast, etc., cheese cold cuts, raw milk cheese
Sweets: Selection of jams, fresh honeycomb, Nutella, waffle station, muffins.
Cereals & muesli: various cereals, muesli, various breakfast seeds
Dairy products: various types of milk, quark, natural and fruit yoghurts, cream cheese
Fruit & vegetables: sliced fruit, fruit salad, dried fruit, tomatoes & cucumbers
Drinks (included): Coffee and tea specialities, various mineral waters, Fruit juices, tomato juice
Served with butter or margarine of your choice